News
End of Year Weekly Report
The CHL sports season came to an end this past week at the State Track and Field Championships,  Before we report on the State Track Meet a shout out to the Mariemont Boys and Indian Hill Girls Lacrosse Teams and Coaches.  Mariemont boys finished 15-5 and in the state semis.  A loss to Columbus DeSales kept them out of the State Championship Game!  The Indian Hill girls finished 17-3 and also in the state semis.  A heartbreaking, overtime 11-10, loss to Columbus Watterson kept them from a state final appearance as well.

These two Mariemont star Lacrosse Players were named All Americans this week.  Congratulations to both Piper George and Caroline Soller.
State Track Meet-  Five CHL schools were represented at the state meet. Ten CHL athletes made the podium, finishing in the top 8 in the state in their events.
Finneytown:  Boys 4 X 200 Relay finished in 12th place.
Mariemont:  Bennett Turan finished fifth in the 3200 meter run.
Indian Hill:  Boys 4 X 400 Relay finished in 14th place.  John Podojil was 10th in the 400 meter run and made the podium, finishing 6th in the State in the 100 meter sprint.
Madeira:  Girls 400 X 100 Relay finished in 7th place and the Girls 4X 200 Relay, made up of Hannah Jung, Keira O'Cull, Kate Schomaeker and Vivian Momper finished 3rd in the entire State of Ohio!  Cate Leroy finished in eighth place in the 800 meter run.
Wyoming:  Nico Arraje  finished 8th in the 1600 meter run.  Freshman Olivia Hill, on the girls side, finished 3rd in the state in the Long Jump.  Sophomore Penelope Webb was State Runner Up in the High Jump,
On a side  note, Wyoming Girls finished 13th as a team and Madeira 21st overall in the state meet.  They do not keep team scores for just field events but if they did Wyoming would have had the third best point total in the entire state in field events.
Highlight #4 - Playing at the Next Level
Continuing our series of an alum from each CHL school playing at the next level.
Ellie Rabenold is a 2019 Indian Hill Grad.  Ellie was a 3 time All State performer in Girls Lacrosse.  She was also named All American twice.  She was a member of the 2017 Braves State Champion Lacrosse Team and a member of the 2017 Girls Soccer State Champion Team.
Ellie was named Lacrosse MVP twice and Cross Country MVP as well.  She was also a great student, being named a National Merit Finalist.  She matriculated to Massachusetts Institute of Technology, where she is continuing to star on the MIT Girls Lacrosse Team.
Ellie Rabenold is currently a sophomore at MIT studying Electrical Engineering and Computer Science and is the first MIT Lacrosse player to be named All American.  She was named All Region First Team and All American 2nd Team.
Weekly Report
Baseball

Three CHL Baseball teams lost in the State Playoffs this week.  All three had great seasons and made post season runs.  Reading lost in the District Semi Finals to top seeded Hamilton Badin.  Madeira in DIII beat Middletown Madison 7-6 on a walk off and then lost in the District Finals to Greenview 4-3 in a great game at Midland Ballpark.  Indian Hill beat Fenwick and played in the District Finals at Princeton late Thursday night and lost 0-1 to Dayton Chaminade in a walk off run in the bottom of the seventh.
Congratulations to all of these great CHL baseball teams!  Great year!
Softball
Taylor played Greenville this week and lost in extra innings.  This was in the Regional Semi Finals.  Taylor went deeper in the State Tournament than any Taylor Softball team ever has.  They won the CHL and the District Championship.  Great season Taylor Softball.
Boys Tennis
Four Indian Hill tennis teammates made it to the State Finals held this weekend in Columbus.  Jack Pollack finished 4th in the state in singles.
Boys Lacrosse
Mariemont defeated Bellbrook to move on to the Regional Finals and then defeated CHCA 15-9 to go to the Final Four in Ohio.  They face Columbus DeSales at Chaminade HS in Dayton on Wednesday 5/31 at 5pm.
Girls Lacrosse
Mariemont and Indian Hill both won their Regional Semi Final games over CHCA and Turpin and faced each other in the Regional Finals with a chance to go to the Final Four!  In a great contest Indian Hill won in overtime 16-15 and move on to the Final Four, state semi finals, on Wednesday, 5/31 at 7:30 at Chaminade HS in Dayton.
Girls Track Regional Meet in Piqua
The Regional Meet saw several CHL Track athletes move on to represent their schools in the State Track meet this coming weekend at Jesse Owens Stadium in Columbus.
Madeira finished in 6th place as a team and Wyoming finished 14th.
The CHL had one individual Regional Champion:  Penelope Webb, Wyoming, jumped 5'4" in the High Jump and won the Championship.  

Madeira had a runner up finish in the 4 X 100 Relay and they were Champions in the 4 X 200 Relay.  Hannah Jung, Keira O'Cull, Kate Schomaeker and Vivian Momper stood No1 on the podium and will have a chance to bring home a State Title next weekend.
Boys Track Regional Meet in Piqua
Indian Hill finished 3rd place in the Regional Meet and Mariemont finished 17th.
Bennett Turan, Mariemont was the 3200m Champion and will represent the CHL, along with several other athletes in the State Meet in Columbus next weekend.  Nico Arraje, Wyoming, finished a strong 2nd place in the 1600m Run.
The big story from the meet was JOHN PODOJIL, Indian Hill.  John won two individual championships and was part of another relay title.  He was the most prolific athlete in Piqua on Saturday.  John won the 100m and 400m sprints.  He anchored the 4 X 400m Relay for Indian Hill along with Dawson Muncy, Jack Gerber and Miles Taylor.  They will travel to Columbus and try to bring home a State Title to Indian Hill and the CHL!
Highlight #3 - Playing at the Next Level
Continuing our series of an alum from each CHL school playing at the next level.
Madeira graduate from 2013, Andrew Benintendi.  Andrew was one of the best two sport athletes ever at Madeira, and maybe, in the CHL as well.  He was a three time all league and two time player of the year pick in the sport of basketball.  In baseball he had an even more prolific high school career.  He was three time all CHL and two time player of the year.  He was named first team all state and was the State of Ohio's player of the year in 2013.  He was also named National Player of the Year.
Andrew was drafted by the Reds in 2013 but decided to go the college route and enrolled at the University of Arkansas.  His junior year there he led the SEC in batting average, home runs, on base pct., slugging pct and walks.  He was named the SEC Player of the Year and the National College Player of the Year by Baseball America.
The Boston Red Sox drafted Andrew as the seventh overall selection in the 2015 MLB draft.  The Red Sox promoted him to the major league level in August 2016, where he has had a fantastic career thus far.  He has played for the Red Sox, the Royals, the Yankees and just this year signed a four year deal with the Chicago White Sox.
From Madeira High School to the big leagues, Andrew Benintendi, on of the CHL's all time greats!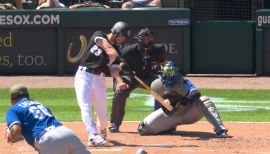 Weekly Report
CHL Cup
Wyoming has won the All Sports Trophy or CHL Cup with 108.5 points.  Madeira was close behind in their best finish ever at 108.  Indian Hill had 106.  Wyoming won 5 team titles, Madeira won 6 and Indian Hill won 6.  Taylor won 2, Reading 2 and Mariemont 1.  Total results can be found on this website under All Sports Trophy.
Boys Tennis
The Districts have been completed and now it is off to the State Meet.  Indian Hill will be well represented at State with RJ Poffenberger and Jack Pollock both competing in singles and Max Berghausen and Michael Ryu teaming up in doubles.  Good luck to all!
Boys Lacrosse
We are now in the regional semifinals and the CHL has two teams still pushing towards a State Title.  Indian Hill plays CHCA on Monday,5/22 at 7pm at Lindner Athletic Field.  Mariemont, the no. 1 seed, plays Bellbrook also on Monday at 6:30 at home.
Girls Lacrosse
Also in the regional semifinals Mariemont plays CHCA on Tuesday, 5/23 at 6pm at Mariemont.  Indian Hill, the no 1 seed, plays Turp on Tuesday at 6 at Indian Hill.
Baseball
In DIII Madeira takes on Middletown Madison this Tuesday at 5pm in the District Semi Finals.  Reading plays Hamilton Badin on Tuesday at 5pm at Joyce Park.   This is a DII District Semi Final contest.  Also in DII Indian Hill, CHL champions, play Bishop Fenwick on Tuesday in the District Semi Finals!
Softball
Taylor is the only school left in the tournament from the CHL.  For the first time in school history the Jacket Softball team will compete in the Regionals.  They are District Champs after defeating Benjamin Logan this weekend.  They now are in the Regional Finals.  On a side note, Gina Wilson, junior softballer from Deer Park, led the State of Ohio with a .848 batting average.  Congratulations To Gina and good luck to Taylor as they try to get into the final four in Ohio Softball.
Track and Field
Both the boys and girls compete this coming weekend at Piqua for the Regional Championships.  Indian Hll brought home the Boys District title at New Richmond this past weekend.  Madeira also won the girls District Championship at New Richmond.   The CHL will be well represented in Piqua!